Margaret Stewart
Born in April almost 220 years ago was Margaret Stewart, possibly Auchindrain's longest living resident. Born in 1801, she had already lived a long life before coming here, having married in 1820 and become a widow in 1836. Margaret seems to have outlived not only her husband but also a lot of her children, and she first appears in the Auchindrain census in 1881 living in our building ACHDN.R with her unmarried son Colin, two grandchildren and a servant. She remains in the house after the death of her son until 1902, when she dies age 100. Living to such an old age would have been a huge achievement at this time, and her milestone birthday was celebrated at the time within two newspapers. Although they've got a few facts about her life wrong, they paint a picture of quite an extraordinary lady.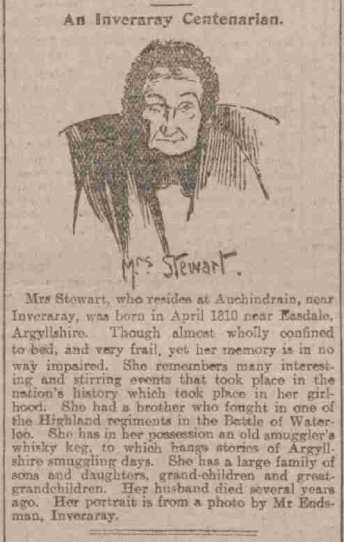 Almost all of the families here at Auchindrain are interlinked, and the same can be said about the Stewarts who don't disappear from the township with Margaret's death. One of the grandchildren that she was living with in 1881, then age 16, was Neil McPhail. He was the son of Margaret's daughter, Flora McPhail Stewart and her husband Donald McPhail, and the family initially lived in Clunary which is just east of Auchindrain. Donald dies in 1882, and in the next census after his death it appears that Flora has moved into her own cottar's house at Auchindrain, to live close to her mother, brother and son. Flora then goes off to live to the end of her life in Glasgow with another of her sons, Colin, who was the second grandchild living with Margaret in 1881.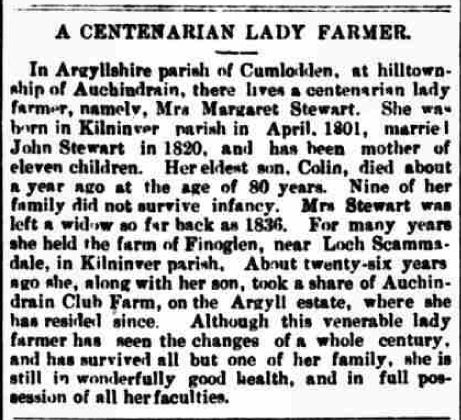 Neil McPhail seems to come and go from Auchindrain during his lifetime. Having been living here in 1881, he's away in 1891, back in 1901, and again away after Margaret's death for the 1911 census. He returns when Margaret's old house is vacated by the Munro family in 1925, and he resumes living there with Iain and Flora MacIntyre, his niece and nephew. Neil remains at the Township until his death in 1954 at the age of 89.


At the moment we're unsure of the exact relationship of these Auchindrain tenants, for example who Iain and Flora's parents were, but we'd love to know more. If anyone has any memories or photos of these people we'd love to hear from you.